Yamamoto Mobile Home Park
CONCEPTUAL SITE PLAN - PIERCE COUNTY, WA
R. W. Thorpe
& Associates

Client: Francis Floyd, Attorney for the Yamamoto Estate
Project Size: 20.77 Acres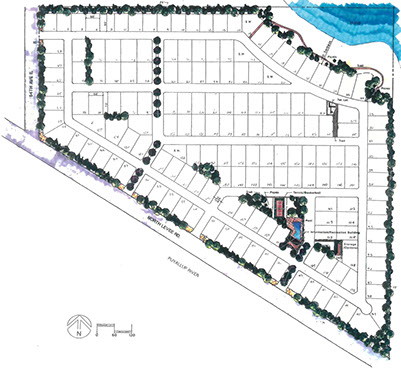 R. W. Thorpe & Associates, Inc. was requested by Francis Floyd on behalf of the Yamamoto family to prepare a mobile home park conceptual site plan for the 20.77 acre site in Pierce County just south of Fife, Washington. The site is located in the northwest corner of 54th Avenue East and North Levee Road. The Puyallup River is on the south side of North Levee Road and in the northeast corner of the site contains a pond. The surrounding area is a mix of agricultural and residential. There are some established residential areas to the north and east of the site. Located adjacent to the site on the east is a nursery.
The site was designed to maximize the use of the property while providing open space for recreational activities. One hundred and seventy-two manufactured homesites are included in the conceptual site plan, including space for a variety of double and single-wide unit types. Each space is designed and oriented to provide opportunities for private patio, garden areas and parking for two vehicles. Open space and recreational opportunities include a recreation building; tennis court with court game area; swimming pool and tot lot. A trail system is designed to provide safe movement around the mobile home park as well as enhanced accessibility. A large open space area for picnicking is planned along the existing pond.
The manufactured home park is heavily landscaped along all perimeters. The plantings provide privacy and also help buffer the park from surrounding streets.
The site is zoned G (General Use Classification) in Pierce County. Mobile home parks are permitted as an outright use in the G zone upon issuance of a Building Permit by the Building Department official.
Return to Solutions