Red Robin International - Issaquah, WA
LANDSCAPE PLAN
R. W. Thorpe
& Associates

Client: DOWL Engineers - Redmond, Washington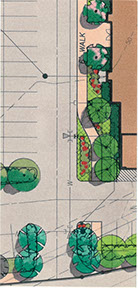 The Pickering Farms area of Issaquah has transformed and changed over the last 10 or so years. The area was originally a working farm, then later used as a grass airplane and glider landing field. Redevelopment started as an office park and has now evolved to include retail and restaurants.
R.W. Thorpe & Associates was asked to provide a landscape plan for the new Red Robin Restaurant. The site is adjacent to the man-made pond and trail system that runs through the Pickering Place Development. The outdoor deck and dining area has a southern exposure and view out to the water.
Our first challenge was to provide a physical separation between the public and private spaces, while promoting the view. The deck was raised and the landscape treatment included a bank of heather and a foundation hedge of low Japanese holly. The resulting planting bed provides visual interest for the diners above on the deck and for the pedestrians on the path below.
The entry off the parking lot was designed to be elegant and non-complicated. The accent areas are illuminated with night lights along the wide walkways. The entrance and building edges are framed by flowering pear trees. Larger shade trees were placed in the parking area to provide shade and reduce the open expansive area.
The street frontage bends into the existing theme of the boulevard landscape treatment. Bermed lawns with shade trees and small-scale conifers have been placed to separate traffic from parking.
The overall effect of the simple elegant design blending into the existing development and the natural pond edge is quite pleasing.
​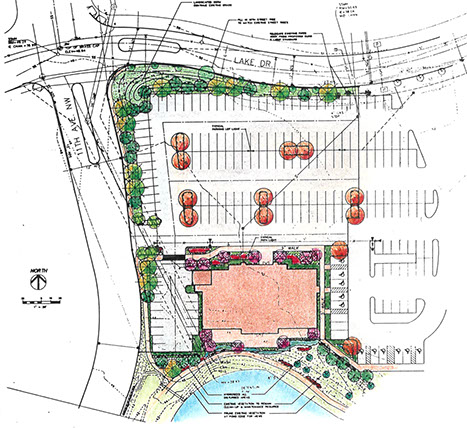 Return to Solutions