New Seasons
LANDSCAPE SITE PLAN - MERCER ISLAND, WA
R. W. Thorpe
& Associates

Client: LRS Architects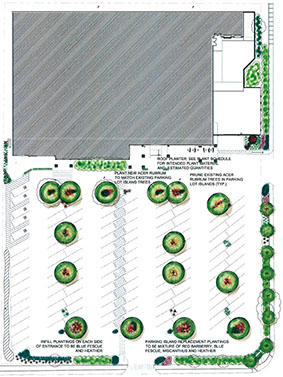 R. W. Thorpe & Associates was the selected landscape architect for the first Washington New Seasons Market. We worked with LRS Architects of Portland OR to produce landscape architectural design plans including permit and construction plan sets.
This new store is located in Mercer Island WA and features an enhanced entrance with improved ADA access. We modernized the landscape with a new planting design that gives seasonal color and texture to the site. A key aspect of the design features sweeping bands of ornamental grasses, which provide movement and whimsical character to the site.
In the interest of sustainability our design team preserved as many existing trees as possible. We also worked with LRS to develop a rooftop garden design that was functional, beautiful and complimented the architecture of the building. This part of the design required using plants that thrive in this sensitive microclimate.
A benefit of our involvement on this project is that we are also currently working on the downtown master plan and visioning process for Mercer Island. This allowed us to coordinate our design and link the new east entrance a new crosswalk and access point that we are proposing on "00" street.
Return to Solutions