Links at the Lakes, Tanwax Lake
PIERCE COUNTY, WASHINGTON
R. W. Thorpe
& Associates

Client: Boyd Real Estate Investments and T & R Property Management, Inc.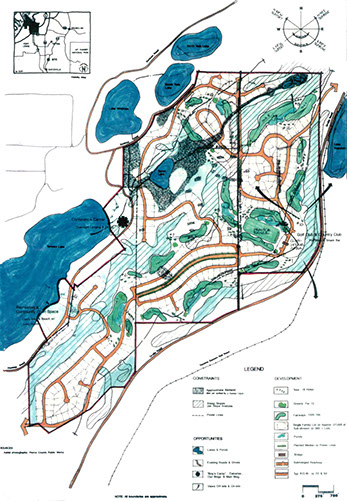 R. W. Thorpe & Associates was hired by Boyd Real Estate Investments and T & R Property Management Incorporated to prepare a site master plan for the 810 acre site in Pierce County, southeast of Tacoma, Washington. The project involved master planning for a golf course and country club to include 18 holes of championship golf, a club house and country club facility, over 360 single family residential lots, a resort quality restaurant and lodge, conference center, recreation and community open space with beach front and lake access.
The site is located on a ridge surrounded by lakes in rural southeast Pierce County. The site is characterized by a flat ridge transitioning to steep slopes on the margins. The area has been in forest practice over the past sixty years. The challenge of the project was to create a master plan which took advantage of the high recreational quality of the site as well as creating areas for single family residences.
A primary objective of the design was to plan an environmentally sensitive site that blended into the landscape to maximize the natural experience.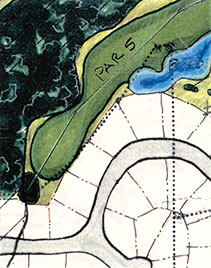 The golf course is laid out to maximize the setbacks from steep slopes within and at the edges of the property. The layout also avoids many of the minor wetland areas scattered throughout the site. The subdivision and road systems are integrated with the golf course in environmental constraints to maximize fairway lots and lots that are adjacent to natural, passive open space.
The large areas of active community open space are provided at Tanwax Lake to allow for boating, water skiing, fishing, swimming and beach front activities. Byron Lake facilitates very passive, quiet activities, such as nature trails, bird watching, non-power boating, etc. The project incorporated 365 large single family home sites distributed throughout the project area.
Return to Solutions