Client: Michael Moore
Project Size: 390 Acres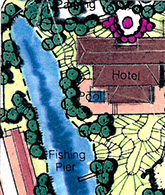 R. W. Thorpe & Associates, in association with AHBL Engineers, were site master planners and landscape architects for a 390 acre planned resort in Grant County, adjacent to the City of Moses Lake. The project involved master planning for a resort that included 300 single family home sites, 150 condominium sites, a resort hotel and restaurant, and18-hole championship golf course and club house, outdoor recreational facilities and water and land oriented recreational activities.
Blessed by 270 rainless days per year, this site is located on the edge of Moses Lake, an important recreational amenity in Central Washington located approximately 200 miles east of Seattle and 100 miles west of Spokane. The projects' location next to the lake afforded an opportunity to create a golf course similar to those found along ocean shorelines. Therefore, "The Links" design and name was adopted as a theme for the project. The existence of sand dunes and the windblown character of the surrounding landscape provide the golfer with an experience equivalent to one found on some of the world renowned links courses.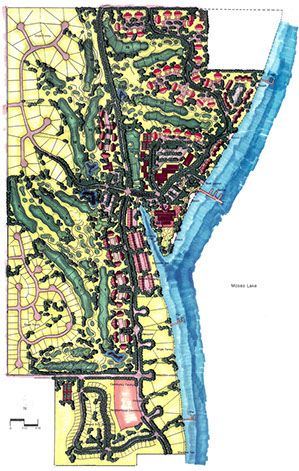 Consistent with the links theme, a design was prepared for the resort hotel and recreational areas, as well as the condominium and single family areas. Detailed designs were prepared for roadway layout and for the first phase of residential and condominium development. The initial phase also included development of a marina adjacent to the hotel and restaurant complex.
Approvals required in order to achieve the project included:
Conditional Use Permit
PUD Permit
Environmental Documentation
Detailed studies related to traffic, shoreline, and archaeological issues
All permit activity was coordinated through Grant County. The project was very well received by the County and permits were completed within a very tight time schedule.
Return to Solutions