Larson & Lakepointe, Inc.
DRAFT & FINAL ENVIRONMENTAL IMPACT STATEMENTS
(DEIS & FEIS)
R. W. Thorpe
& Associates

Client: T.W.B. & S., INC. P.S.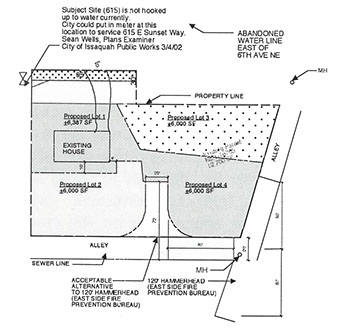 R. W. Thorpe & Associates, Inc. prepared several condemnation and taking projects.
Two projects occurred in the City of Issaquah along a highway overpass. Site plans showed how to legally subdivide the properties while providing adequate utility service, drainage and fire turnaround.
Site visits and photo inventories were conducted. Site conditions such as geology, soils, and existing topography were analyzed. Zoning and permit research was conducted at the City of Issaquah. Drainage and street improvement information was also gathered from the city public works department.
​
Return to Expert Testimony Project List