Client: Welcome Four Construction
Project Size: 314 Acres
The proposed project was for the development of industrial, commercial and residential use on a 314 acre site (approximately 184 acres industrial/commercial and 130 acres residential) on the west side of Monroe, Washington. The proposal would construct approximately 238,000 square feet of retail space; 300,000 square feet of office space; and up to 1.6 million square feet of industrial space on the site. The open space area would include a 30.7 acre passive area and a 61 acre executive 9-hole, par 3 golf course with clubhouse and driving range. The residential component consisted of 260 single family homes, each on a 1/3 acre lot.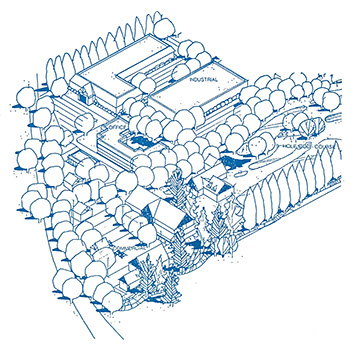 R. W. Thorpe & Associates was a member of the development team. The firm's principal role was that of site planning, land use specialist and EIS principal authors. The firm also developed and evaluated alternatives to the proposal.
R. W. Thorpe was Principal-in-Charge of the Fryelands Development site planning, environmental and SEPA process. He was responsible for the review and consistency of all information. Mr. Thorpe was the principal liaison between the owner/design team and the City of Monroe Planning Department.
All work tasks were performed on schedule, within budget and met the clients requirements. Construction of the commercial and industrial components of the Fryelands Development began in 1993.
Return to Solutions