Evergreen Hospital Medical Center, Kirkland, WA
LANDSCAPE DESIGN & LANDSCAPE MASTER PLANNING
R. W. Thorpe
& Associates

Client: King County Hospital District No. 2
The Evergreen Hospital embarked on an aggressive building schedule in late 1990 and the firm responded by proposing to provide master planning and landscape architectural services. The hospital accelerated their building schedule which required fast-tracked landscape and irrigation plans for the first two phases of a parking garage that would serve the existing hospital facility while the East Wing Addition was under construction. This also required simultaneous development of a master plan concept.
The areas in which R. W. Thorpe & Associates participated ranged from seasonal planting designs for signage to a detailed plaza area with water features.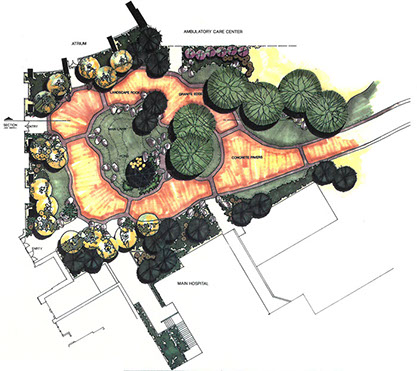 Landscape planting design for Phases I and II Parking Garage
Irrigation design for Phases I and II Parking Garage
Construction administration
Water feature revision for Hospice Building
Additional design and construction administration: earthwork, planting, irrigation, walkways and accent rock work for Hospice Building
Streetscape irrigation and planting for surrounding local street improvements
Planting and irrigation design for East Wing addition
Detailed hardscape design for plaza at East Wing
Planting, rocker and irrigation design for Out-Patient Care Office Building
Ongoing consulting services to the Grounds Maintenance and Construction Departments
The hospital grounds have developed into a campus environment over the past few years. Many design features have been used to unite the campus. The major objective has been to provide the most pleasant atmosphere and environment for patient family and friends who visit the EHMC.
Return to Solutions