Emmanuel Episcopal Church - Mercer Island, WA
LANDSCAPE DESIGN & LANDSCAPE MASTER PLANNING
R. W. Thorpe
& Associates

Client: Emmanuel Episcopal Church
R.W. Thorpe & Associates was asked to provide landscape and construction services for the Memorial Garden at Emmanuel Episcopal Church on Mercer Island. The garden would serve a dual purpose: a place to inter the ashes of the departed and a space with sufficient gathering area for small informal services.
Together with the client, R.W. Thorpe & Associates selected a site on the church grounds that offered an environment for quiet and private contemplation. The design features low retaining walls nested into an existing slope, benches and landscaping which offers year-round color. The central paved area features the church's logo, a large cross in contrasting paving.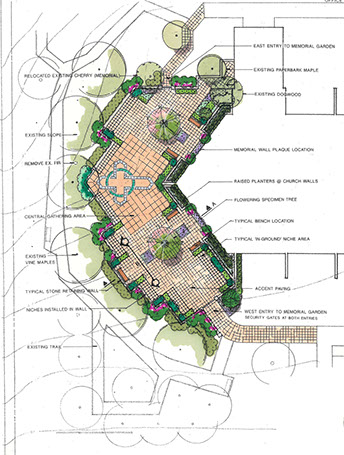 After the conceptual design was enthusiastically approved, the challenge was to integrate the burial niches, to be installed both horizontally and vertically, with the retaining walls and the paving. The design provides for placement of over 200 burial niches with sufficient area to increase that number in the future.
Construction of the garden will be completed in two phases, the first phase to begin in November, 1997.
R.W. Thorpe & Associates offered services ranging from the initial "brainstorming" with the church committee through construction administration, which included:
Conceptual design of hardscape and landscape;
Coordination with the provider of the niche burial units;
Construction documents and specifications;
Contract process; selection of general contractor and subcontractors; and
Construction observation.
The Memorial Garden was designed with sensitivity and flexibility as an outdoor extension of the sanctuary, a quiet garden of beauty for reflection and private gatherings.
Return to Solutions